Nestled atop the cliffs of Point Grey in Vancouver, British Columbia, lies the Museum of Anthropology at the University of British Columbia (UBC). The MOA is world-renowned for its displays of artifacts and art from a variety of First Nations cultures, as well as its picturesque setting with breathtaking views of mountains, water, and sky.
Since 1949, the MOA has maintained its commitment to promoting cultural diversity. It's been at the forefront of promoting and bringing awareness to Indigenous art. The museum collaborates with Musqueam artists to display their pieces alongside other Indigenous traditional and contemporary works.
The museum places a premium on artistic diversity and the link between art and community. It also emphasizes the social and political commentaries and contexts through which artists communicate their traditions and concepts.
Curious about the collections and cultural displays? Here are 5 reasons why you should visit the UBC Museum of Anthropology.
A History of the UBC Museum of Anthropology
The MOA UBC began in 1947 as a department within UBC's Faculty of Arts. Its first director was Harry Hawthorn, and his wife, Audrey Hawthorn, was its first curator. Among their first pieces were Musqueam house posts and the Buttimer collection of First Nations basketry. Then in 1976, it settled in its current home – an award-winning structure designed by Canadian architect Arthur Erickson with a landscape designed by Cornelia Oberlander.
Inside the building, you'll find the main Museum of Anthropology alongside the Laboratory of Archaeology and its facilities. In 2010, the UBC MOA expanded and added more research infrastructure in labs, storage, research rooms, and the Library and Archives. The MOA saw another major expansion in 2017, with the addition of the Gallery of Northwest Coast Masterworks. It is currently adding more facilities for programming and performances.
UBC Museum of Anthropology Programs
Besides its permanent exhibitions of almost 50,000 works, UBC MOA hosts 3-4 temporary exhibitions a year alongside several public programs and events. These include programs like Night Shift, which is a monthly cabaret series that features local performers. There is also the Native Youth Program, which trains Indigenous high school students from all over British Columbia.
MOA is also one of the largest teaching museums in Canada. The institution hosts courses in museum studies and education, conservation, and Indigenous and world art. Students can apply for practicums and internships at the museum, while professionals can try for curatorial fellowships in partnership with the Mellon Foundation.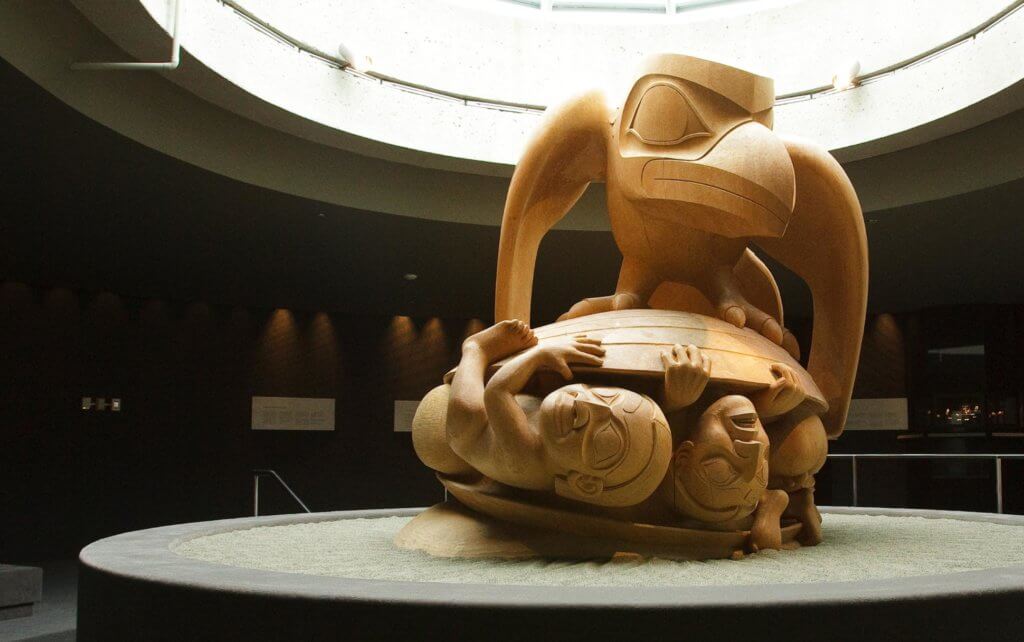 SOURCE: University of British Columbia
5 Reasons to Visit the UBC Museum of Anthropology
Inside the museum, you'll find tens of thousands of historical and contemporary pieces that will leave you full of awe and wonder. Here are some reasons to visit the museum – not just once, but time and time again.
#1 – The World-Famous MOA Collection of Ethnographic Objects
The Museum UBC hosts almost 50,000 different ethnographic objects from all across the globe. These items include sculptures, totem poles, and other cultural artifacts. 40% of the museum collection is from Asia, with additional significant contributions from Africa and the South Pacific. There are also pieces from other continents.
One of the most famous and iconic pieces in the museum is The Raven and the First Men yellow cedar sculpture by Haida artist Bill Reid. Carved from a single block of yellow cedar, the piece portrays the Haida creation myth.
Besides Reid's works, the museum also features significant Musqueam artifacts from the late 19th to the early 20th century. It also displays commissioned work from contemporary artists such as Susan Point and Joe Becker.
#2 – Koerner European Ceramics Gallery
In this gallery, visitors can view the Dr Walter C. Koerner collection of over 600 European ceramics. It contains mostly tin-glazed and lead-glazed earthenware and stoneware, used from the 16th to 19th centuries. The Koerner collection, as a whole, is globally unique and iconic.
Alongside the European ceramics, the museum also features commissioned ceramics and textiles by local contemporary artists.
#3 – Botany and National Herbarium
Scientists and nature lovers alike will adore the MOA UBC's Botany and National Herbarium. Walk amongst stunning flowers and lush greenery, and check out the plant specimens within the facility – there are over half a million, from all around the globe. And it continues to expand as researchers discover new plants.
The herbarium is significant as a research facility for local and international scientists dedicated to studying plant life, but it is also open to the public as an educational resource. Learn more about plant diversity and science as you enjoy the spectacular views.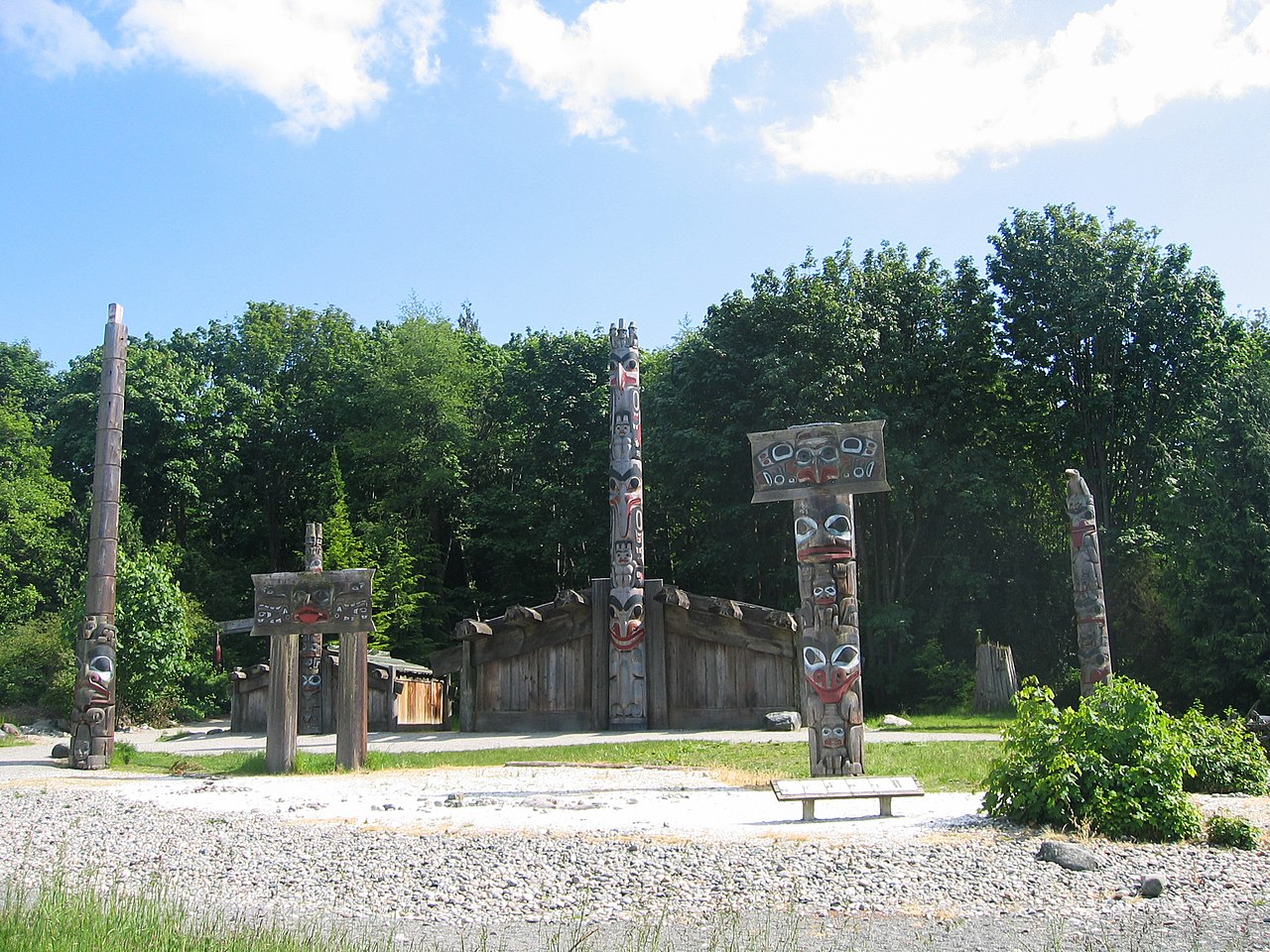 SOURCE: Wikimedia
#4 – The Audrey and Harry Hawthorn Library and Archives
The Library and Archives include a library, historical archives, and the Oral History and Language Lab. This valuable resource has a well-curated collection of published research material focused mainly on museology, archaeology, Northwest material culture, and global ceramics and textiles.
Members of the public can access materials but not borrow them, although many can be reproduced or accessed online. Simply fill in an Application for Use on the website and await approval.
#5 – Sound House
Sound House is the music series at the MOA, and proudly features a fantastic lineup of bands and artists from Vancouver. Their performers cover a wide variety of genres, from spoken word to hip hop. Set in MOA's Haida House, this program is a "celebration of culture and music" that takes place on the last Thursday of every month.
Now in its fourth season, Sound House brings the heart and soul of music to visitors as they sit amidst Northwest Coast art and architecture. Bring friends and drinks to the outdoor bonfire and enjoy the Sound House's musical delights.
Explore More: leləm̓ village Living at UBC
There's more to UBC than just the Museum of Anthropology! The campus is surrounded by the beautiful Pacific Spirit Park, which also contains leləm̓ village, a beautiful community of apartment buildings designed with the traditional Musqueam principles of inclusivity and respect. The MOA is sure to take up much of your time, and for good reason – it's a wonderful display of First Nations culture and creativity. Just make sure to check the museum's calendar of events before visiting so you know what to catch and when.