No matter what time of year, the University of British Columbia and its surroundings are full of highlight-worthy places. Fill up your social media feeds with stunning photos of yourself or the landscape around you when you visit UBC.
From the shores of Spanish Banks Beach to the trails of Spirit Regional Park, there are many locations for you to get that perfect picture to post. If you're exploring the campus or just in the area, here are the best places in UBC to take photos.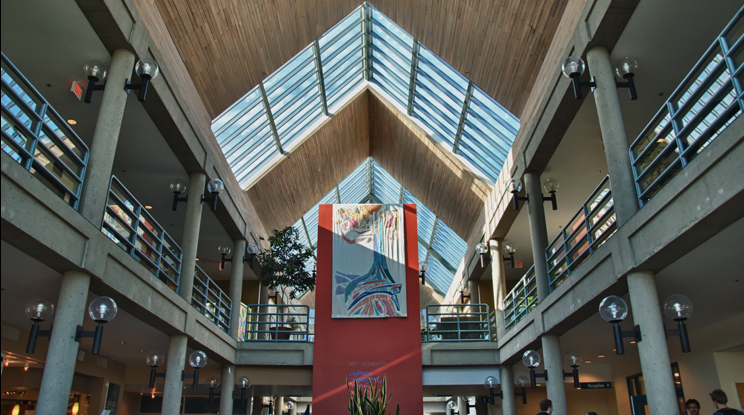 Photo from Regent College
Regent College
The college is an affiliated college of UBC, and also sits on the University Endowment Lands on the west side of Vancouver. You may not think a college is a hotspot for Instagram-worthy shots, but one look at the Regent College campus and you'll think again.
The Regent College campus features architectural designs by Clive Grout, Walter Francl Architects, and glass artist Sarah Hall. One of the main attractions is the central atrium filled with light and activity, but you'll definitely want a photo by the True North wind tower. The external facade of the wind tower boasts a stained glass installation called Lux Nova, featuring glass filled with photovoltaic cells that power the tower's LED lighting at night.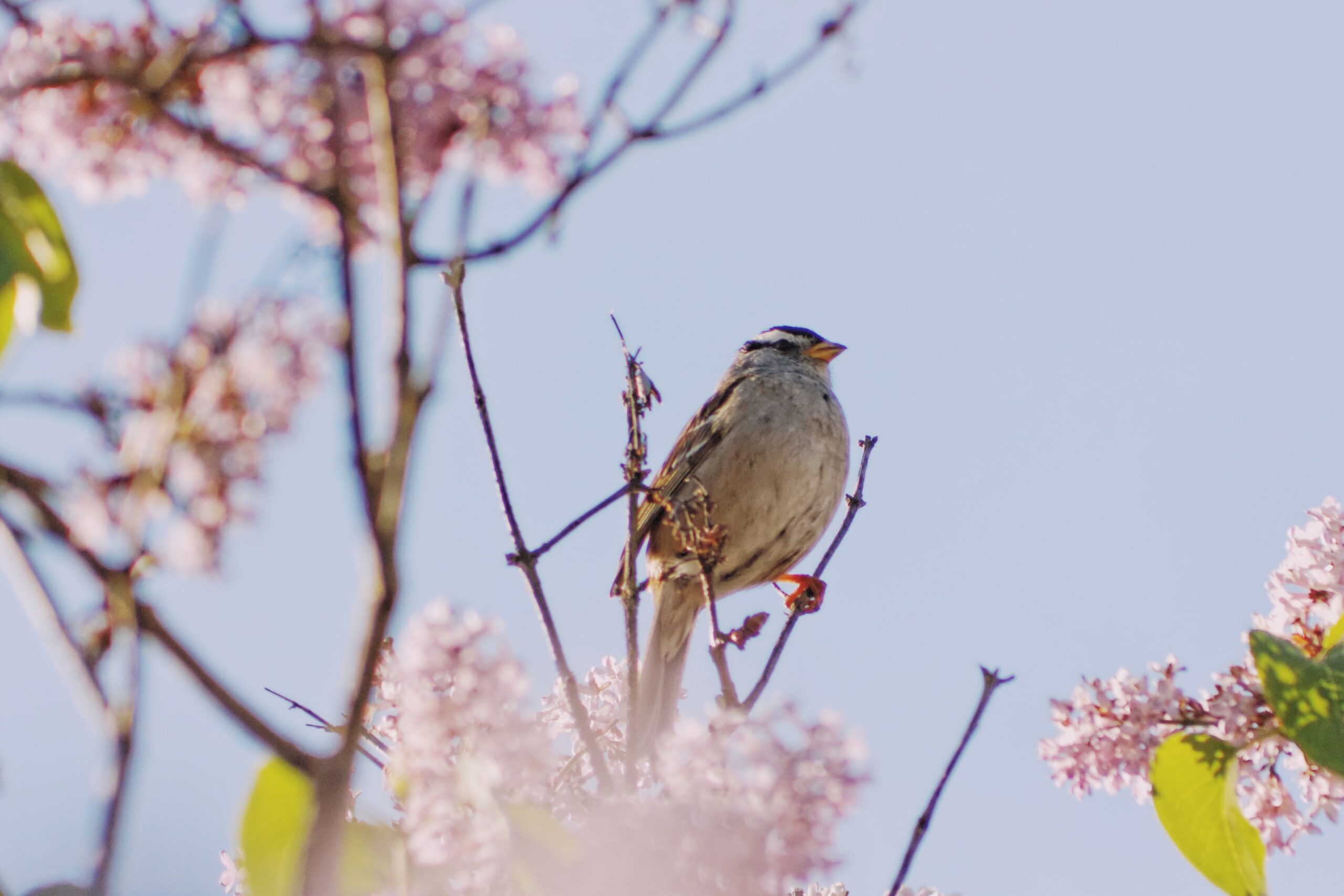 Jim Everett Memorial Park
Whether you're a casual visitor or a professional photographer, Jim Everett Memorial Park is the perfect place to capture nature's moment in time. The park sits on the UBC campus and is open to the public for exploring, from its vast, lush forests to its stunning ocean views.
Catch a whole range of views – sunrises and sunsets, birds in flight, still water reflections, tripping creeks, and even wildflowers in bloom. Use them as a background for your personal photos or simply capture their natural beauty. And of course, don't forget to visit every season to see how these gorgeous landscapes change!
Acadia and Tower Beaches
Acadia Beach sits between Spanish Banks and Wreck Beach, and is popular for beachgoers who want to walk along a picturesque shoreline. There are lots of trees, logs, and rocks for you to pose for photos, all backdropped by the water that flows in and out. You can even bring your furry friend along with you!
A little to the west is Tower Beach, which features two WWII watchtowers that were built to scout Japanese submarines. Take photographs of the sea view, or of the historical sights along the shore. You'll also get great views of the Georgia Strait.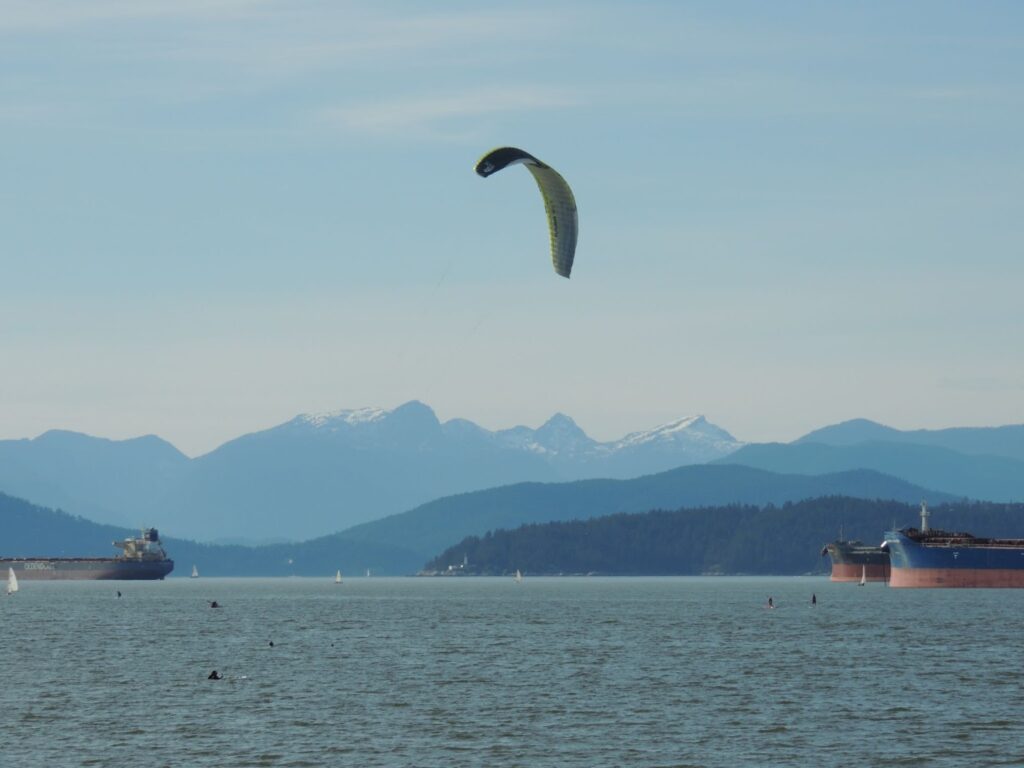 Photo by Veronica Dudarev on Unsplash
Spanish Banks Beach
Want to impress your friends and family with a stunning action shot? Get into kiteboarding and skimboarding at Spanish Banks Beach. The grassy fields slope down towards sandy shores, which lead out to the stunning blue open water – the perfect backdrop for dynamic photos.
The shallow pools of Spanish Banks East are the ideal spot to try out spins and tricks. Have someone take your photo at a low angle to make yourself pop and make the water look infinite. Then head down to Spanish Banks Extension to go kiting, and get photographed up in the air against clear blue skies.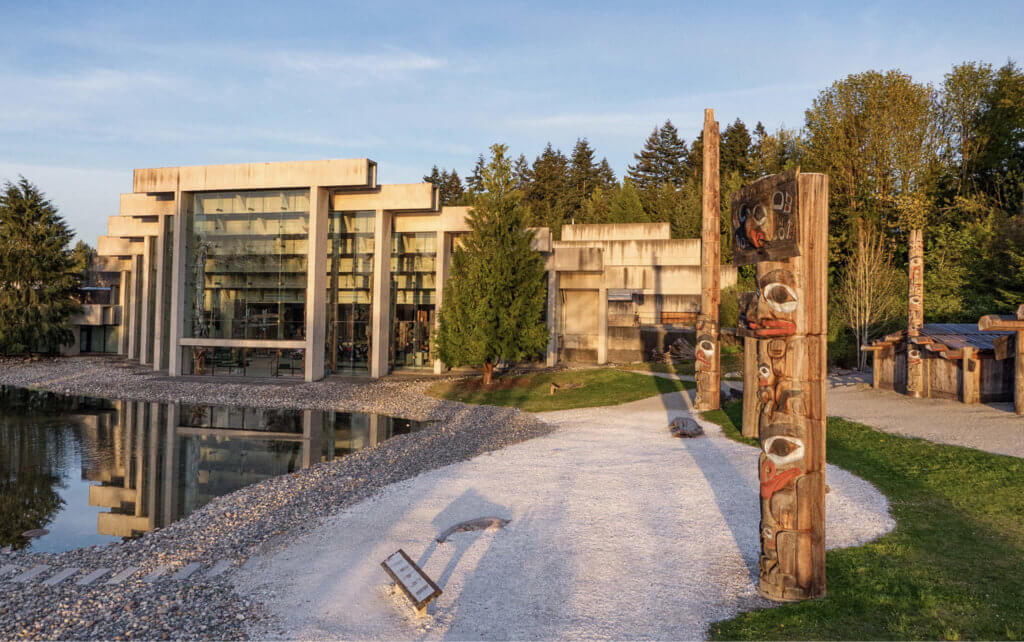 Image from University of British Columbia
Museum of Anthropology at UBC
The Museum of Anthropology UBC features some of the most stunning art and architecture in Vancouver, if not the whole of Canada. Its most iconic piece is The Raven and the First Men by Haida artist Bill Reid, portraying the Haida creation myth. Alongside many of Reid's works are other pieces by Musqueam artists.
The museum itself is a work of art as well – an award-winning structure designed by Arthur Eriksen, with landscaping by Cornelia Oberlander. Then there are the outdoor exhibits, including First Nations totem poles and artifacts. And if you want a touch of colourful foliage in your photos, check out the Botany and National Herbarium at MOA UBC with over half a million plant specimens to explore.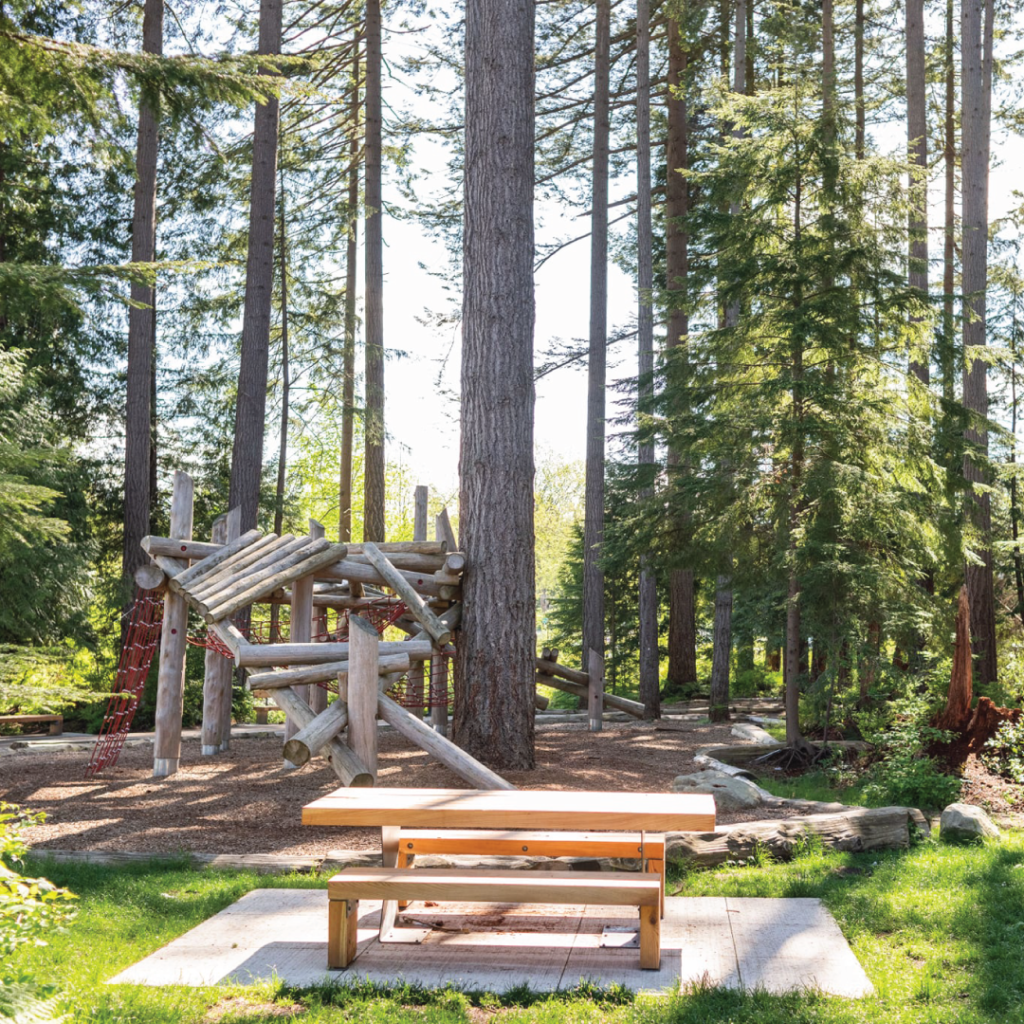 leləm̓ Village Square
Get photographed amid lush greenery or contemporary urban spaces, with designs that reflect traditional Musqueam principles. leləm̓ – which means "home" in the Musqueam language – sits on the western tip of Vancouver. And everyone who visits the village feels instantly connected to nature and community.
Take photos in spaces imbued with thousands of years of history and culture. Let the trees and the architecture inspire you and the photographs you take. Visit the open spaces with benches, play places, flowers, and other natural forms that will frame you perfectly.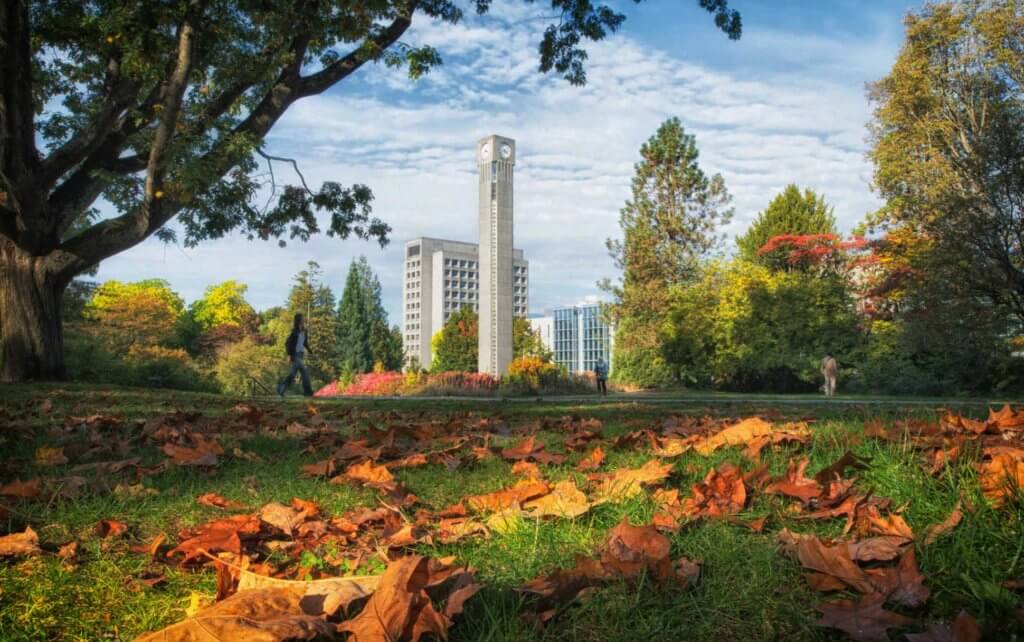 Image from University of British Columbia
UBC Main Mall
The UBC Main Mall is an excellent spot for socializing, but it's also fantastic for photoshoots and casual photography. The wide open spaces and bright natural light mean you can get the perfect shot at any time, and capture the beauty of nature, history, and architecture in one place.
Set your viewfinder north to frame the mountain landscape, or focus on the strong red oaks growing around the area. Get pictures of iconic places such as the Old Barn Community Centre or the Irvin K. Barber Learning Centre. Or simply capture a life-in-the-moment shot of everyone milling around, enjoying the fresh air and the views.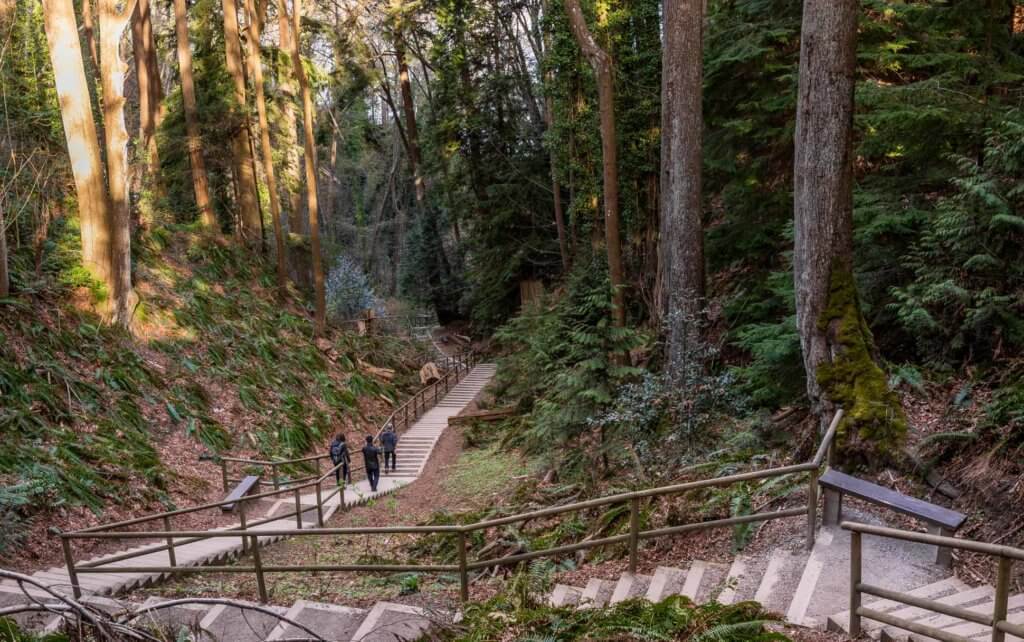 Image from University of British Columbia
Pacific Spirit Park
There are few locations more photographic than UBC Pacific Spirit Park. Acres and acres of old forest stretch out to form one of Vancouver's most popular and beautiful attractions. Channel your inner adventurer and go on a trek through the Spirit Regional Park trails, or check out the more picturesque botanical and Japanese rock gardens.
Get photos of yourself beside decades-old trees, along well-worn hiking trails, amidst lush canopy walks, or above the famous Camosun Bog. Golden hour is one of the best times for photos, but really – any time is a picture-perfect time at Pacific Spirit Park.